Biography
"To craft original, transcendent stories and songs, make collaborative, impeccable recordings, and perform for attentive, participant audiences - exhibiting strength, self-knowledge and optimism."
Kat Mills was inspired to pen this vision statement as part of her work with The Creative Tribe: a small group of women dedicated to developing independent artistic ventures into lives of purpose. After several years of putting music on the back burner to raise her beloved daughter, Kat Mills is back at it with a new drive. She is equally at home at an intimate house concert and on a festival stage, finding the contemporary voice for a familiar folk vibe. Humans have always been compelled to gather around the fire for stories and songs. In today's world, more than ever, we need troubadours to take us there. Kat Mills invites you to relax, pay attention and play a part in the narrative.
The Kat Mills sound is about the power of a solo voice and acoustic guitar. Whether as a child combing through Bob Dylan songbooks, picking apart lyrics and structure, as a teen moved by Tracy Chapman's guts standing alone in front of the masses at an Amnesty International concert, or the years spent just over the hill from Pete Seeger, witnessing how he lifted a crowd—Kat is energized most by the least. Her sets feature sparse, groovy instrumentation, words that stir emotion and thought, and a single alto voice speaking her own truth.
Kat and Scott have been back in the studio in 2015 to craft the newest record, Silver, to be released in the fall. Kat is currently based out of Blacksburg VA and tours throughout the east and beyond.
Short Biography
Solo, soul folk live shows. Layered, collaborative recordings. Kat Mills is a writer, singer, guitarist and seeker rooted in GenX habits, nodding to 70s troubadours, and openly commenting on the aches and triumphs of the moment. Kat is based in the Blue Ridge Mountains, in Blacksburg VA, and considers the whole east coast her home. She is back with long-time collaborator Scott Petito in Catskill NY preparing her fourth studio album for a fall release. At a time when humans have almost forgotten how to be still, to listen, to reflect and respond, Kat's songs make it easy to remember.
Images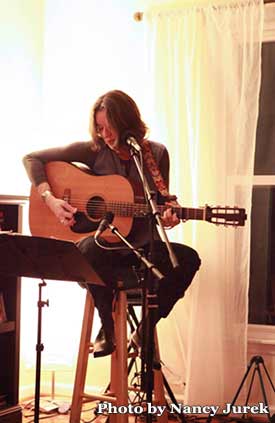 Highlights
Has shared stages with Pete Seeger, Levon Helm, Dar Williams, Grace Potter and the Nocturnals, and Northern Lights, among others.
Has appeared at Clearwater's Hudson River Revival (NY), Floyd Fest (VA), The Takoma Park Folk Festival (DC), SolarFest (VT), Carolina in the Fall (NC), Little Yough Festival (MD) and more.
Kat's recordings feature collaboration with Larry Campbell (Bob Dylan, Phil Lesh), Marc Shulman (Suzanne Vega, Chris Botti), Brian Melick (The McKrells, Kim & Reggie Harris), Scott Petito (The Band, The Fugs) and Jerry Marotta (Peter Gabriel, Hall & Oates).
Quotes
"Music that feels more like an intuition than an actual product, Kat Mills has found a way to go beyond what we think we hear or feel. Intangible." –Independent Songwriter
"Kat is a woman with an axe and a voice, and she knows how to swing both of them." -Tim Pratt, Ming Dawg blog
"Her acoustic styling on the guitar lays the soft bed that showcases the powerful voice she harbors—presenting a tonal mood often reminiscent of earthy voices of early 1970s rock." –Christopher M. Staten, The Alexandria Gazette
"Keep writing and singing. The world needs more artists like you."
–Tom Pacheco, Woodstock legend
"Wow! What a disc. This is one of my favorites of the year."
–Lee Larcheveque, WMUA (Amherst MA)
Video